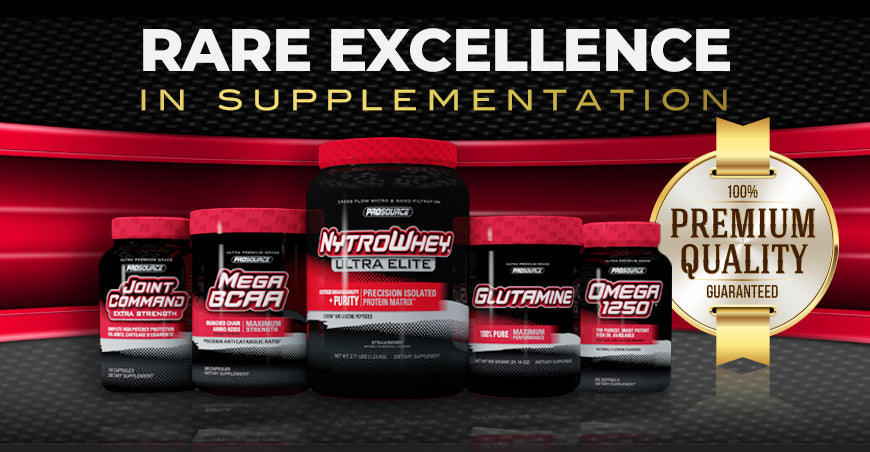 The way some supplement manufacturers carry on, you'd think respect is something you earn by launching an ad campaign or buying the services of a few high-profile social media influencers. As if it's something you can outsource to consultants rather than earn over years of hard work and due diligence.

At ProSource, we know better. While dozens of these big splashy start-ups come and go every few years, leaving their outlandish promises unfulfilled, we've been advancing the science of physique transformation, performance enhancement, and strength and muscle gain for two decades.

How do you earn a peerless reputation as America's premier manufacturer and retailer of sports nutrition supplements? By researching and developing the innovative products that have helped countless athletes achieve their fitness goals and attain new performance benchmarks for over twenty years. That's how.

ProSource: A Supplement Institution Built to Last

The vast majority of supplement manufacturers fail because there's no money in their budgets for real science. Once you're done writing checks to celebrity spokespeople and influencers, buying ad space all over the internet, and financing lavish displays in chain stores that are also taking a cut of your proceeds, there isn't much left for the much less glamorous business of conducting real scientific research and development.


That's unfortunate, because their products end up being weak, under-dosed copycat versions of better products based on cutting-edge science these fly-by-night manufacturers have no access to. New customers queue up to buy these highly-hyped products and discover right away that they don't work. No viral Instagram post or fancy display can overcome that.

At ProSource, we do things differently. We've always depended on the best and truest form of promotion to drive sales: word of mouth from our legions of loyal customers who use our products every day to lose fat, gain muscle, and attain ever higher standards of physique and performance enhancement.

Our unique and visionary direct-to-consumer merchandising model cuts out every added expense that serves to inflate the retail prices of our competitors, helping us ensure that every ProSource product you buy is the ultimate supplement value for your money.

These marketing and distribution efficiencies put ProSource in the unique position of being able to underwrite the research necessary to the formulation of truly ground-breaking supplement technologies and to utilize only the highest grade ingredients and most potent dosages in our products.

A Proud Legacy Of Sports Supplement Excellence

Any discussion of ProSource's unique contribution to the sports supplement industry and the lives of so many athletes serious about their nutritional requirements has to start with our flagship protein formulas, NytroWhey and NytroWhey Ultra Elite. Original NytroWhey paved the way for the modern era of high-bioavailability, great-tasting pure whey isolate formulas that we know today. Before NytroWhey, virtually all commercially available protein formulas were primitive concoctions of low-quality whey concentrates, caseinates, and inert fillers, all processed via a crude ion-exchange method that damaged pH-sensitive amino microfractions in whey, rendering the protein formulas themselves all but useless.

ProSource's NytroWhey changed all that. Original NytroWhey was the first 100% whey isolate formula processed via a superior cross-flow microfiltration method ideal at preserving the elusive and invaluable micro fractions in whey. The difference between NytroWhey and cheaper ion-exchange and acid-treated wheys was like night and day. Years later. ProSource would again astound the industry by introducing NytroWhey Ultra Elite, a state-of-the-art premium protein that added two of the most cutting edge protein technologies in existence -- an advanced whey hydrolysate and a leucine-peptide-bonded form of protein -- to the original 100% whey isolate. Again, we were years ahead of the industry curve.


Likewise, our natural testosterone booster, AndroTest, is another breakthrough product that established a new gold standard in the industry and serves as another example of our science-based approach to product development. Before AndroTest's appearance, most of the "experts" believed that a true clinical-grade natural testosterone booster was an impossibility. ProSource proved them wrong by investing years of investigation and great research capital into evaluating mechanisms of action, eventually identifying and then refining a unique natural agent of male hormone support. ProSource became the only manufacturer that has ever succeeded in overcoming the processing, standardization, and cost hurdles inherent in incorporating clinically meaningful amounts of this proxtodioscin-rich botanical super compound into a clinically validated supplement.

Today, our commitment to sports science continues undiminished. Our new VyoCore performance enhancement technology, launched under the CellDyne brand, is helping athletes greatly expand their strength, endurance and work-output capacity. VyoCore's multiple vectors of performance maximization include the only form of true adenosine-5-triphosphate clinically validated to produce strength increases of 147%, as well as an advanced osmolytic agent that hydrates cells in order to increase strength and endurance.


VyoCore also contains a muscle-carnosine supporting mechanism that optimizes lactic-acid buffering in muscle to increase endurance, plus state-of-the-art cell volumizers, recovery aminos, and organic energy and focus factors designed to provide a clean, powerful boost. Needless to say, VyoCore has already created a sensation among athletes seeking to improve their performance and dominate in sports competition.

A True Commitment to Excellence

Again and again throughout the years, ProSource has invested the time and investigatory effort to expand the frontiers of supplement science and used the fruits of those investigations to form the foundation of breakthrough products that have changed our industry for the better.
These are standards of excellence our competition simply cannot afford to match. This combination of superior quality and greater value has earned the trust and loyalty of generations of athletes and active, fitness-minded ProSource customers. And it will continue to do so as we launch new initiatives and continue to meet the needs of our loyal customers into our third decade.



Use as directed with a sensible nutrition and exercise program. Read and follow all product label instructions and warnings thoroughly before use. These statements have not been evaluated by the Food and Drug Administration. These products are not intended to diagnose, treat, cure or prevent any disease.

The articles featured herein are for informational purposes only and should not be construed as medical advice. Specific medical advice should only be obtained from a licensed health care professional. No liability is assumed by ProSource for any information herein.