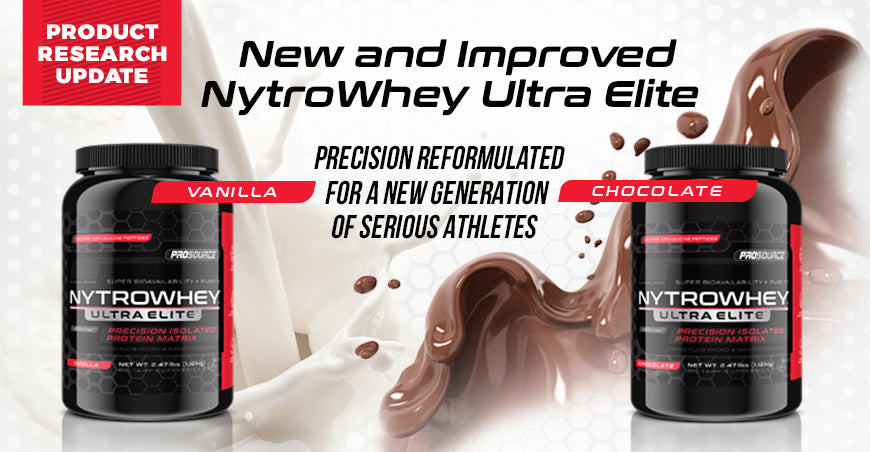 When it comes to ingredient quality and manufacturing excellence, ProSource has always found itself in a unique position. We're basically in competition with no one but ourselves.


This is especially true of our flagship super-premium protein blend, NytroWhey Ultra Elite. In a world where the biggest-selling supermarket-shelf protein formulas hide their inferior ingredients behind bland descriptors and deceptive labeling practices, NytroWhey Ultra Elite has always stood apart from the crowd by virtue of its protein sourcing.

NytroWhey Ultra Elite's protein blend has always been sourced entirely from Glanbia® Nutritionals, universally recognized as America's foremost manufacturer of high-quality proteins. The whey isolate in NytroWhey Ultra Elite is derived via a superior-quality crossflow-microfiltration process unsurpassed in preserving the fragile protein micro-fractions and growth catalysts essential for maximal muscle support. Likewise, the cutting-edge hydrolyzed whey protein in NytroWhey Ultra Elite is rich in the low-molecular-weight di- and tripeptides that drive elevated levels of growth. And NytroWhey Ultra Elite's state-of-the-art leucine peptide technology is a precision-targeted driver of instant protein synthesis for recovery and growth immediately after your intense workout.

The World's Best Super-Premium Protein Is Now An Even Greater Value!

Given its peerless ingredient and processing bonafides, ProSource could have left NytroWhey Ultra Elite absolutely unchanged and still been the gold standard bearer in the category for another decade. But the countless serious athletes who trust ProSource and NytroWhey Ultra Elite to help them achieve their physique and performance goals expect more from us. And we, frankly, hold ourselves to a higher standard than our competitors could ever imagine.

So the first thing you'll notice about New and Improved NytroWhey Ultra Elite is that you're getting MORE protein per serving. How did we do this? Certainly not by cramming more substandard protein content into the jug (which would increase serving size). Rather, we've taken advantage of recent cutting-edge advances in super-premium protein processing to increase super-high-quality protein content by a substantial twenty percent per serving.

That's 20% more of industry gold standard whey protein isolate, hydrolyzed whey and highly bioavailable L-leucine. No other protein source. The net result is 25 grams of growth-driving muscle fuel per serving, as opposed to 21. The protein concentration in each one-serving scoop has been enhanced as well, from 48% protein to 63% in each scoop -- an increase of 31%.

Cleaner, More Pure, and Healthier Than Ever

Serious athletes are obsessed with the purity of every gram of nutrition they consume. They are the world's most careful Supplement Facts label readers. Above and beyond all, they wish to "eat clean." This especially holds true when it comes to protein formulas, the bedrock of their daily dietary regimens.


NytroWhey Ultra Elite has always been celebrated for its luscious flavor and smooth texture, the inevitable end result of its clean, natural ingredient sourcing. Now new, improved NytroWhey Ultra Elite is even more ideally suited for clean, healthy, low-carb diets by virtue of several adjustments to its nutritional profile that make it simpler, more natural, more digestible and more bioavailable. In addition, the last traces of gluten and soy have been removed, fiber content has been reduced and healthy fats sourced from sunflower oil have been added.

The World's Best-Tasting Protein Is Now Even More of a Flavor Sensation

All of these significant improvements to NytroWhey Ultra Elite's already award-winning and industry-leading formulation have combined to offer one more exciting benefit: That NytroWhey Ultra Elite flavor and texture that you love is now even better! The ultimate attention to ingredients and processing yields a protein formula so smooth, so luscious, it is now more than ever a truly a gourmet-quality taste sensation!
At ProSource, being the best is a tradition. Making our best products -- like NytroWhey Ultra Elite -- even better is our ongoing mission.


Use as directed with a sensible nutrition and exercise program. Read and follow all product label instructions and warnings thoroughly before use. These statements have not been evaluated by the Food and Drug Administration. These products are not intended to diagnose, treat, cure or prevent any disease.

The articles featured herein are for informational purposes only and should not be construed as medical advice. Specific medical advice should only be obtained from a licensed health care professional. No liability is assumed by ProSource for any information herein.