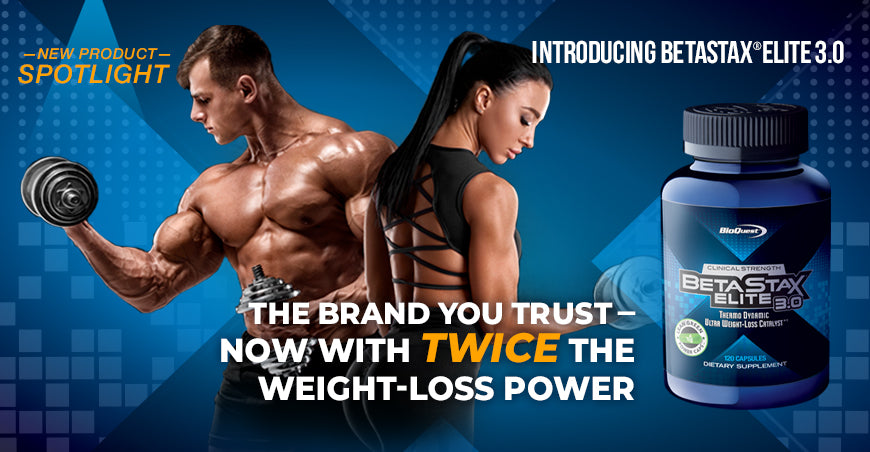 Losing excess weight and keeping it off may be the most difficult physique challenge there is. Even among people who achieve their leaning-out goals, nine out of ten will regain all that excess weight within two years.

Today, however, we're here to talk about that tenth person.
What is he or she doing correctly to attain and maintain fat loss? Certainly they're eating clean and exercising regularly. Chances are they're NOT radically restricting caloric intake, because that isn't sustainable over the long term, deprives you of essential nutrition, and prompts your body to enter a starvation mode that prioritizes fat storage.

On the other hand, chances are very good that tenth person is combining their healthy lifestyle efforts with a science-based weight-loss supplement that works along several metabolic pathways at once.

One such technology, BetaStax® Elite, has led the way for years in helping fitness-conscious people attain their physique goals with its advanced complex of weight loss and energy-boosting catalysts. And now that legendary brand, already trusted by countless people who have experienced its transformational power, has been enhanced with a dynamic new diet support technology for TWICE the weight-loss power.

BetaStax® Elite 3.0: The Next Evolution in Weight-Loss Science Has Arrived

BioQuest has long held a well-earned reputation for applying due diligence in every aspect of the research, development and manufacture of superior-quality supplements. Its flagship diet support product, BetaStax Elite, is another prime example of that dedication to excellence. BetaStax Elite's unique efficacy is the result of an advanced, science-based formulation designed to utilize multiple pathways in the body to facilitate weight loss while helping to maintain energy levels.

Science, of course, always progresses, and the BioQuest R&D team is always exploring new technologies of weight loss. This scientific quest has led to a new and more powerful formulation of the most trusted brand for real weight loss results. New BetaStax® Elite 3.0 takes the already well-documented weight-loss power of the trusted original BetaStax and amplifies it to an entirely new level.

Clinically Validated Technologies, Working Together for Dramatic Weight Loss

The key to significant, sustainable weight loss has always been to address excess fat via multiple physiological pathways of action. The technologies in original BetaStax Elite were designed to increase metabolic rate and energy, facilitate fat mobilization and utilization, and support a lasting feeling of satiety or fullness between meals. And they worked remarkably well, as legions of regular buyers of BetaStax Elite can attest.

The new BetaStax Elite 3.0 builds on this existing framework with the addition of an advanced technology called Meratrim® that has been shown in independent clinical testing to help support significant reductions in bodyweight and waist/hip circumference. When combined with the other highly effective technologies in BetaStax® Elite 3.0, the result is weight-loss power far beyond that of any other product of its kind.

In that randomized, double-blind, placebo-controlled clinical research study, sixty subjects took 400 mg of Meratrim® or placebo twice daily for 16 weeks. All subjects were asked to walk five days a week for 30 minutes and follow a standard calorie diet (2000 kcal/day). The Meratrim® supplemented subjects experienced FOUR times the weight-loss results of their well-exercised placebo-supplemented counterparts.




This advanced new technology is ideally suited to work in tandem with another potent weight-loss mechanism in BetaStax® Elite 3.0, derived from green coffee beans and standardized for 45% chlorogenic acids. This additional catalyst has also been validated in independent, randomized, placebo-controlled research in which test subjects experienced statistically significant decreases in bodyweight and body mass index as compared to control.


A Powerful Matrix of Co-Factors to Mobilize Fat Utilization and Boost Energy

Your body doesn't want to lose its excess fat stores, especially when confronted with significant caloric restriction. Instead, your body conserves its resources, fiercely defending fat reserves (which are metabolically easier to sustain) by reducing fat burning, chewing up muscle for fuel, and slowing down blood pressure and heart rate until you're in a low-energy slump.

This clearly is not a game plan for high-impact weight loss. BetaStax Elite 3.0 addresses this situation with a matrix of energy catalysts which have been shown to help optimize mental alertness, reduce sensations of fatigue and provide the energy needed to train at a high level. An additional co-factor, rich in raspberry ketones, has been shown to support the mobilization and utilization of fat, ultimately preserving lean muscle during weight loss as your body uses fat for fuel more efficiently.

Feel the Legendary BetaStax Surge of Thermogenic Power in Minutes

BetaStax Elite has always been valued by fitness-conscious people because it delivers real results powered by real science. But talk to any long-time repeat buyer of BetaStax Elite and they'll always rave about that rush of revitalizing power they feel when they take BetaStax in the morning or before a workout.

The new BetaStax Elite 3.0 enhances and expands that feeling of power, ensuring that your workouts remain highly productive, your mood is elevated, and you never fall prey to the late day slumps that can undermine your diet and weight-loss efforts. And you can be sure that surge will be smooth, even, and long-lasting.

Transform Your Physique With BetaStax® Elite 3.0!

Why improve on the unrivaled efficacy of the original BetaStax Elite when it already had no real competition in the weight-loss category? Because the research and development experts at BioQuest knew they could. They are as committed as always to the enhancement of your physique and your overall wellness. BetaStax Elite 3.0 will help you reach your physique goals and have you looking and feeling better than ever before!


Use as directed with a sensible diet and exercise program that includes reduced caloric intake and increased physical activity. Consult a health care professional before beginning any weight loss program. Read and follow all product label instructions and warnings thoroughly before use. These statements have not been evaluated by the Food and Drug Administration. This product is not intended to diagnose, treat, cure or prevent any disease.

The articles featured herein are for informational purposes only and should not be construed as medical advice. Specific medical advice should only be obtained from a licensed health care professional. No liability is assumed by ProSource for any information herein.