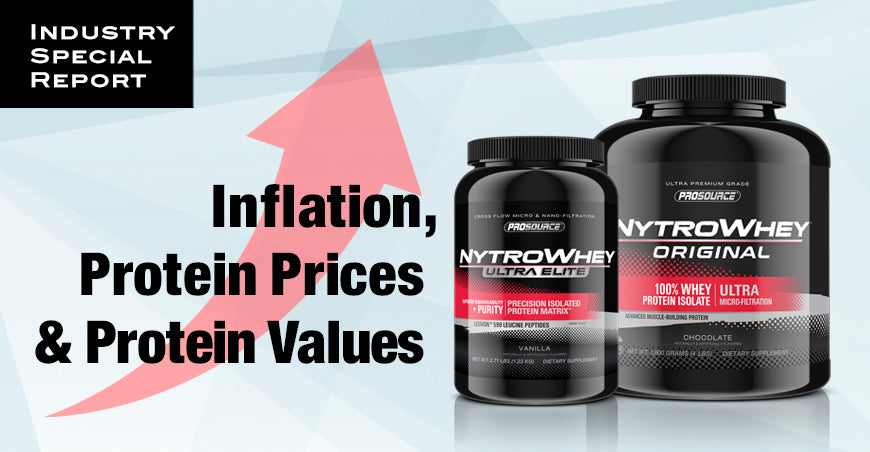 This will come as a surprise to precisely no one, but inflation has been heating up to levels not seen in this country in forty years, and consumers are feeling the pain in their wallets. This is true whether you're buying gas or bread or just paying the rent. It's also true if you're serious about your fitness and nutrition, and you regularly purchase protein supplements.


Many of the reasons for the sharp increase in protein-related costs are common to the general economy. Supply chain issues continue to frustrate manufacturers in all industries. In the protein trade, it's more expensive to feed dairy cows, harder to find the workers who will process whey protein and transport it to market, and even getting tubs and lids and other packaging materials is becoming more difficult. At the same time, for some manufacturers, borrowing is more expensive, which makes expanding operations to meet demand more difficult.

Compounding the problem in the protein category is the fact that demand for whey protein powder is growing by leaps and bounds across the world as new economies emerge in China and India and Africa, giving rise to new legions of consumers looking to eat better and live healthier. Market experts predict that whey prices will persist at historically high levels until new cheese and whey processing capacity comes online over the next five years.

So. There's the bad news. Times are hard. But when it comes to protein retailing, times are harder for some than others. Why? Because the vast majority of protein manufacturers / retailers have a long list of expenses, of which actual product manufacture is just one item. Big in-house marketing departments, superstar brand endorsers, point-of-purchase sales materials, and social media influencers cost money too. ProSource's competitors live in a world where prices are increasing from supplier to brand, then from brand to retail store, and finally from the store to the consumer.

And believe us, it shows. When we visit our local chain-store supplement retailer to see how our competitors are faring, we are just dumbfounded by the retail prices we are seeing. Two-pound tubs of the most generic whey protein concentrate and isolate blends are edging past $40. Five pound tubs? $80 and more! Imagine if these tubs contained actual superior-quality 100% whey isolate or the most advanced forms of hydrolyzed whey.

Faced with rising costs and raw materials shortages, many manufacturers face the risk of pricing themselves out of existence and forcing customers to seek alternative protein sources. Other less scrupulous manufacturers will soon be up to their old tricks again, such as protein spiking. This deceitful practice -- which entails measuring the nitrogen content of lesser ingredients like glycine, taurine or even maltodextrin and using that deceptive figure to stand in for whey protein content -- was a problem even during more prosperous times. Expect it to rebound with a vengeance in the coming months.

Is the forecast all doom and gloom? No, because there's a better way.

The ProSource Brand: A Lean, Direct Manufacturing and Retailing Model Perfect for Hard Times

At ProSource, we'd like to say we saw all this coming and decided to streamline our costs accordingly well in advance. But the truth is, we never had any desire to compete with the oversized category giants who, themselves, mostly got bought up years ago by many-times-larger corporate conglomerates anyway.

Our first priority was -- and will always be -- you the individual consumer. That's why we rooted out every production and marketing cost that wasn't directly targeted at supplement research, advanced manufacturing protocols, and ingredient purity and potency. That's why we warehouse our products in our own climate-controlled facility and ship our products directly to you. All the savings gained by these operating efficiencies are passed on to you in the form of lower prices on higher-quality products. Which means we're better placed than any of our competitors to navigate the coming economic storm and continue to be your trusted supplier of the world's best proteins.

Original NytroWhey -- The 100% Whey Isolate That Started It All

Watching whey protein prices streak upward, it's amazing to consider that a few decades ago whey was considered a valueless by-product of cheesemaking. Manufacturers literally discarded it. It took modern research to identify whey as a food product possessed of a protein biological value superior to that of fish, beef or chicken. And then many more years to discover and refine processing methods that would render whey protein palatable and pleasing in texture.

Then Original NytroWhey ushered in the modern era of whey isolate formulas by making superior whey protein absolutely delicious. The whey isolate in Original NytroWhey is precision-manufactured using high-performance, ultra micro-filtration processing, a precise and complex synthesis that involves ceramic cold filtering that delivers the purest, most bioavailable protein available, preserving the alphalactalbumin, lactoferrin, and glycomacropeptides that are essential catalysts for enhancing bioavailability, and boosting growth and recovery. NytroWhey's 100% whey isolate content was far superior in muscle-building power and its gourmet-quality flavor made it an instant sensation.

And that remains true today, as vast numbers of nutrition- and fitness-conscious consumers purchase Original NytroWhey in convenient 4-lb tubs that are arguably the single greatest value for your dollar in the protein category.

NytroWhey Ultra Elite -- Unprecedented Muscle-Building Power and Value

When seeking maximum protein value for every dollar you spend, the price tag isn't the only label you should be reading. The nutrition facts panel is where you need to look to find REAL protein value, both per serving and per dollar.

NytroWhey Ultra Elite has long been the world's foremost premium whey protein for serious fitness enthusiasts and athletes. It attained this status by virtue of an advanced whey isolate blend consisting of three state-of-the-art protein technologies: A superior-quality crossflow-microfiltration whey protein isolate loaded with critical growth catalysts primed for muscle support. A cutting-edge hydrolyzed whey protein rich in the low-molecular-weight di- and tripeptides that drive elevated levels of growth. And finally, a leucine peptide technology that is a precision-targeted driver of instant protein synthesis, putting your muscles on the road to recovery and growth after an intense workout.

The combination of these three proteins places NytroWhey Ultra Elite far above every other protein designed for muscle mass maintenance and growth. Their purity and potency -- completely free of fillers, impurities and spiking agents so common in other commercially available brands -- also ensures that NytroWhey Ultra Elite mixes better and tastes better than all of its competitors.

At a price comparable to the simple whey isolate/concentrate offerings of our competitors, NytroWhey Ultra Elite is a protein value of a different kind -- a super-premium muscle fuel that provides maximum growth and transformative power per dollar spent. That value is a direct result of the ProSource consumer-focused merchandising model.

A Guarantee of Sports Nutrition Value During Tough Inflationary Times

When prices rise and budgets get tight, as they are today, it's tempting to cut back on quality and assume you'll get by somehow. But this is a false assumption, as fewer dollars spent on nutrition of little or no real value is no savings at all.

Fortunately, there is another choice, and that is to go with a long-established brand and a company whose commitment to excellence and value you can trust. Whether you're a long-time loyal ProSource customer or just discovering us today, know that we're earning our reputation every day as the serious athlete's #1 sports nutrition source by providing you the ultimate combination of quality and value.

Use as directed with a sensible nutrition and exercise program. Read and follow all product label instructions and warnings thoroughly before use. These statements have not been evaluated by the Food and Drug Administration. These products are not intended to diagnose, treat, cure or prevent any disease.

The articles featured herein are for informational purposes only and should not be construed as medical advice. Specific medical advice should only be obtained from a licensed health care professional. No liability is assumed by ProSource for any information herein.