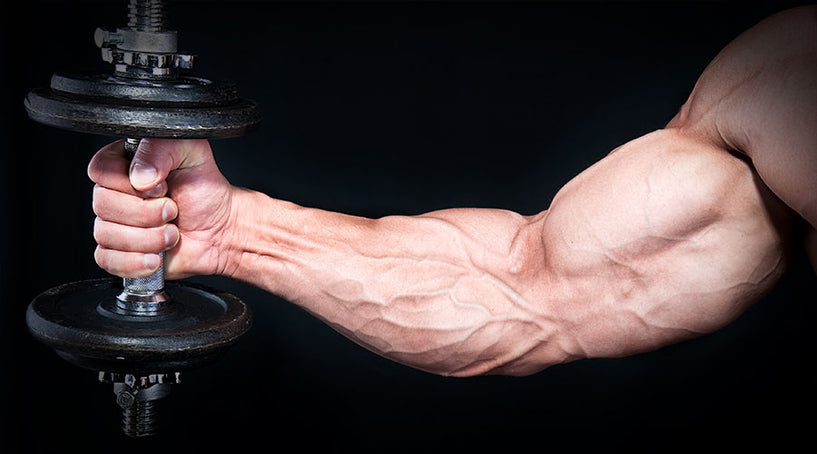 Talk about a perfect day! For fans waiting on line, who anticipated waiting in bitter cold and possibly snow, were pleasantly surprised by the sunny 60-degree day that greeted them. Thousands turned out for what
Big Ronnie
himself called the biggest crowd ever at any of his appearances (This crowd was even bigger then the last time
ProSource hosted the then 1X Mr. Olympia Ronnie Coleman
back in 1999). The line was endless and then some while Ronnie signed autographs and took pictures with anyone who asked. Fans drove from up to 6 hours away and some even flew in from neighboring states to see the
8X Mr. Olympia
. The scheduled noon-4 appearance turned out to be noon to almost 6PM as
Ronnie refused to leave until each and every fan was satisfied
and got what they wanted, to meet the most accomplished professional bodybuilder of all time. His genuine smile and handshake continued throughout the day and he showed no signs of wearing down. Ronnie once again showed that he was a true champion in every sense. In addition to the champ, fans also had a chance to meet many other well recognizable supporters of the ProSource promotion including
Victor Martinez
,
Kevin Levrone
,
Gerard Dente
,
Rich Gaspari
, and one of Arnold's closest buddies from Pumping Iron,
Bill Grant
. The vendors on hand blew through all
samples and free giveaways
they brought in no time, as they didn't anticipate such a large crowd. The
ProSource store
suddenly became packed wall to wall with ProSource customers, some current customers, but many new that were blown away by the prices and selection we had to offer. Those that live too far away to drive to the store each month, were blown away by the
ProSource Buyer's Guide
and what it had to offer and found a new home to shop on-line and call to order their
supplements
. The top sellers for the day were:
NytroWhey Extreme from ProSource
,
AndroTest from ProSource
,
Tetrazene ES-50 from BioQuest
,
Intake Performance MRP
from
InStone
,
SuperPump from Gaspari
,
NO-Xplode from BSN
,
Ultra GTX from ProSource
,
ProBolic from MHP
,
1,000gm creatine from ProSource
,
Extreme Muscle Enhancement book from ProSource Publications
,
Labrada's Rock and Roll bars
, and of course
Ronnie's book HardCore
. But perhaps the largest hit of the day in the product category was the new
NytroPlex protein formula by ProSource
. Customers were truly amazed by the incredible taste and creamy consistency of this new protein breakthrough and our entire first batch was presold in just a single day. ProSouce would like to thank all who came out to brave the "winter weather" and support the event. Feel free to hop on our forum and check out some of the pics taken by the ProSource staff and feel free to post you own! We look forward to servicing you soon! In Health, The staff at ProSource
Some big names in attendance. Kevin Levrone, Bill Grant (one of Arnold's buddies from Pumping Iron), Rich Gaspari, Big Ronnie, Victor Martinez, and Gerard Dente.
Sunny and 60 degrees. Couldn't have asked for a better day to bring the thousands that attended the event.
The never ending line continued to grow throughout the day.
The line wrapped around the building and once again, continued to grow.
?????????????
Victor Martinez makes a surprise appearance. Looking bigger then ever.
The ProSource NytroPlex stole the show. Customers went crazy over it!
Ronnie arrives in his stretch Hummer limo.
Ronnie looking huge.
Ronnie and a fan. He couldn't have been any more inviting to his thousands of fans that drove up to 6 hours to see him.
Ronnie.........
Ronnie's better half.......
Ronnie and his better half.
Ronnie keeping pace.
Ronnie refused to leave at his scheduled time. He was scheduled to be there from noon-4pm but with the line so long of fans excited to see him he postponed plans and stayed until each and every fan got his autograph and had their pictures taken with him.
Ronnie with some fans. He took as many pictures as people wanted and was genuine with each and every fan.
Ronnie showing off his guns (and ProSource T-shirt).
Anyone got a sandwich???
The raffle winner. A fan from New York won a supplement package worth $800.00!
The group again.
Lester Glenn, a local car dealership, welcomes Ronnie to town.