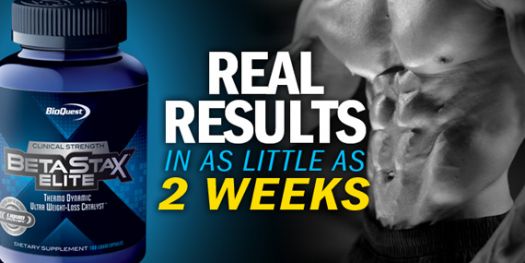 If you're an athlete who takes his physique and performance goals seriously (and we know you are, or you wouldn't be here), you're probably familiar with the constant blur of activity surrounding some of the most-hyped brands in the thermogenic category. Some of these products seem to be "reformulated" every few months or so. You may find yourself wondering 
why
 they need to be re-invented so often . . .  and what, besides the package design, is really changing.
The research and development innovators at BioQuest do things differently.
 In 2008, they introduced their flagship weight-loss catalyst
BetaStax
, the product that marked the beginning of a new post-ephedra age of truly effective and transformational thermogenic weight loss. BetaStax revolutionized the diet-support category with its patented PureWay-Slim technology so far advanced beyond the pedestrian ingredients found in competing fat burners that those products (and their manufacturers) still haven't caught up. Most, in fact, are gone.
Over the ensuing years, BetaStax has earned itself devoted legions of fans among athletes seeking the ultimate physique-ripping, performance-energizing advantage. Indeed, original BetaStax is one of the best-selling weight-loss/energy supplements we've ever carried here at ProSource (only surpassed by the legendary Xenadrine RFA-1). Every day, word of mouth continues to spread, bringing enthusiastic new converts to the BetaStax brand.  
Of course, all of this unprecedented success leads to a bit of a paradox. How do you improve on perfection?
For years, BetaStax has remained true to its original formulation, a steady, dependable rock in a stormy sea of competing products forever flip-flopping about, adopting well-hyped ingredients, then dropping them once they're discredited. (Anyone remember Hoodia gordonii? How about PEA? Didn't think so.)
Meanwhile, the BioQuest research and development team has been diligently working at the vanguard of thermogenic science, investigating the most promising new technologies that will advance this supplement category to the same unparalleled degree that BetaStax changed everything in 2008. And now, at last, the culmination of those efforts has arrived in the form of new BetaStax Elite.


for a chance to win
this product!
A New Evolution of the
Gold Standard Fat-Loss Catalyst
Building on their unrivaled success with original BetaStax, the new Elite formula has even more clinically validated metabolic power, expanding BetaStax Elite's effectiveness far beyond that of any other fat burner to date.
Using a multi-dimensional approach to fat loss,
BetaStax Elite
is a synergistic combination of clinically dosed ingredients that promote:
Satiety, or increased feeling of fullness after a meal
Decreased fat and carbohydrate absorption
Appetite suppression, or decreased feelings of hunger
Lipid mobilization and utilization, or increased fat metabolism
Increased metabolic rate and energy

In contrast to competing fat burners, BetaStax Elite uses clinically effective dosing of its main ingredients, which is clearly indicated on the label. This comprehensive and synergistic approach makes BetaStax Elite the ultimate diet and training companion, which will help you quickly achieve the lean, defined physique you have always wanted. This is where BetaStax truly stands apart from its competitors.  Instead of spritzing in a little bit of whatever is being hyped by the media, BioQuest researchers put the power of real science backed by rock solid clinical evidence into their products.  
Upgraded with a Powerful New Diet-Support Super Ingredient
The primary ingredients in BetaStax Elite are clinically validated to directly and indirectly promote fat loss and dieting success. Key among them is an exciting new technology in the form of a advanced botanical compound that supplies a standardized high potency clinical strength dose of bio-active chlorogenic acid.
This innovative fat-loss mechanism has been shown to significantly elevate fat metabolism in the liver and suppress fat absorption. Furthermore, there is an abundance of research illustrating that chlorogenic acid inhibits glucose-6-phosphate translocase, which is involved in blocking the absorption and utilization of consumed carbohydrates. This means that less of the fat and carbohydrates that you eat get absorbed and stored (as fat) in the body.
This improvement to the BetaStax formula works along an entirely new fat-loss vector, ramping up fat burning through yet another scientifically established pathway, making
BetaStax Elite
clearly one of the most multi-dimensional nutritional approaches to fat-loss available today.  And to maximize this new mechanism BioQuest formulated this upgrade utilizing the most bio-active form of chlorogenic acid available.  
Non-Stimulant Fat-Loss Action Via a Powerful Natural Phenol Clinically Linked to Fat Oxidation
Recent satisfied users of the original
BetaStax
will remember that the BioQuest research and development team DID make a significant change to the formulation in 2012, with little fanfare but to great overall effect. BetaStax was upgraded with the addition of Razberi-K, a potent non-stimulant mechanism of transformation.
BetaStax Elite contains the most potent form of the raspberry ketone (4-(4-hydroxyphenyl) butan-2-one) known as
Razberi-K
. In several studies raspberry ketone supplementation has been reported to prevent fat accumulation, even with diets rich in fats and carbohydrates.
These findings are supported by research, which has shown that most of raspberry ketone's weight loss benefits are due to augmented fat metabolism and inhibited small intestine absorption of dietary fat (by suppressing pancreatic lipase activity). The raspberry ketone in BetaStax Elite is the perfect synergist for the novel botanical extract (containing chlorogenic acid), together promoting potent decreases in fat absorption and metabolism.
The Clinically Validated PureWay-Slim Weight-Loss
Technology That Revolutionized Diet-Support Science
The breakthrough technology that forever separated original BetaStax from the competition by a wide margin, PureWay-Slim is a bioactive matrix of fat loss agents that has helped countless athletes achieve their physique goals. And, unlike so many ingredients that have been hyped to the skies by less scrupulous manufacturers, this exclusive patented matrix is supported by a firm foundation of clinical science.
In a randomized, double-blind, placebo-controlled study, 50 healthy volunteers were randomly assigned to take placebo or 250 mg of PureWaySlim. Weight, waist and hip circumferences, basic metabolic profiles, blood glucose, and lipoprotein levels were measured at baseline and then at 2 and 4 weeks. It was reported that the consumption of 250 mg of PureWay-Slim (prior to two major meals daily) resulted in significantly greater reductions in body weight and waist and hip circumferences when compared to placebo treatment.
Further, clinically significant weight-loss results were apparent within the first TWO WEEKS of supplementation and continued throughout the duration of the study.  Results of that magnitude observed in such a short time is extremely rare in the world of human clinical research and is a true testament to the power and potency of this formulation.  The scientists further reported that subjects who took PureWay-Slim also had remarkable elevations in plasma Cholecystokinin (CCK) levels at 60 and 120 minutes post-meal. CCK is a neuropeptide that mediates satiety (the feeling of "fullness" after a meal) by binding to receptors in the brain. Having high levels of CCK while dieting makes caloric restriction a breeze and increases your chances of fat loss success! Each serving of BetaStax Elite contains the exact clinical strength 250mg dose of PureWay-Slim utilized in the study.
A Unique Matrix of Premium-Grade Energy Factors
There's always been more to BetaStax than state-of-the-art diet support. Indeed, a significant portion of the athletes who regard BetaStax as an indispensable element of the daily supplement regimen have no need or desire for fat loss at all. These athletes value BetaStax (and now 
BetaStax Elite
) for its highly synergistic complex of energy factors ideal for ramping up performance potential.
Long-time fans of BetaStax have always been enthusiastic in their praise of an energizing complex that delivers an exhilarating rush of energy, motivation, and even feelings of well-being within minutes of taking a dose thanks to its innovative LiquidSpeedCap technology. This smooth and powerful energy surge is a welcome alternative to the jitters and energy crash that accompany competing products which rely on megadoses of yohimbe and other harsh stimulants. In this way, BetaStax delivers both dramatic diet support benefits AND an amped-up infusion of energy that is guaranteed to help make your workouts a first-class effort every time.


for a chance to win
this product!
Feel its Surge of Thermogenic
Power Within Just Minutes
The amazing two-week results in clinical testing associated with its key weight-loss matrix are just part of a bigger, more exciting BetaStax story. BetaStax has always been distinguished by its unique capacity for generating REAL thermogenic power you can actually FEEL working and see in the mirror week by week.
New
BetaStax Elite
harnesses that remarkable power and takes it to an entirely new level. With its proprietary Liquid SpeedCap technology, BetaStax Elite triggers a truly awe-inspiring surge of energy and focus within minutes, even as its synergy of thermodynamic ultra-weight-loss catalysts goes to work, providing powerful metabolic support for a reshaped physique.
As you can see, the new BetaStax Elite formulation represents the most comprehensive and well thought out fat burning formula of its kind. The research team at BioQuest have once again proven to be leaders in supplement innovation with their latest addition to the fat burner supplement category.  
One brand name has always been the standard bearer for science-based innovation and clinically validated efficacy in the weight-loss category. Now, new BetaStax Elite, powered with yet another bio-active clinical strength metabolic stimulant, is poised to revolutionize the weight-loss category as completely as original BetaStax did when it took the diet supplement category by storm in 2008.
PureWaySlim Supplementation: Positively Impacting Human Health. Dario Pancorbo M.D., Carlos Vazquez M.D., and Mary Ann Flecther Ph.D., University of Miami, Miami, FL, USA

Vinson JA1, Burnham BR, Nagendran MV.Randomized, double-blind, placebo-controlled, linear dose, crossover study to evaluate the efficacy and safety of a green coffee bean extract in overweight subjects. Diabetes Metab Syndr Obes. 2012;5:21-7. doi: 10.2147/DMSO.S27665. Epub 2012 Jan 18.

Morimoto C, Satoh Y, Hara M, Inoue S, Tsujita T, & Okuda H (2005). Anti-obese action of raspberry ketone. Life Sci 77, 194-204.
Have you tried new BetaStax Elite yet? If you have let us know your experience with it in the comments field below!