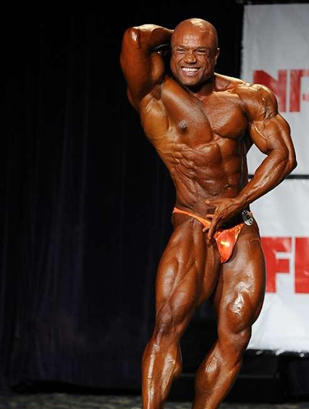 It all starts with a dream. For
Monty Mabry
, it started with the superheroes in the comic books of his youth, continued on to winning the NPC Mr. Virginia Overall Championship in 2003, and on to the present day, where he is more determined than ever to win his IFBB Pro card and compete against the greatest physiques the bodybuilding world has to offer.
Monty's bodybuilding career is a testament to the fact that there are no overnight successes in his chosen sport. In recent years, he has experienced the highs (including several excellent finishes in NPC Nationals competitions) and the lows (crises in his personal and family life that have derailed his training). In 2006, his career reached a crossroads of sorts when he competed in the NPC USA Championship in Las Vegas and did not place in the Top 15.
A lesser man might have walked away at that point, but Monty used that finish as a learning experience. He sought out the opinions and counsel of a number of distinguished bodybuilders and took their criticisms to heart. Most importantly, he learned that, as he says, "a little humility is good for the soul."
Now, in 2010, Monty Mabry is ready to tackle the mountain again. He has honed his physique to an absolute peak of perfection. He has put all the distractions behind him. He's ready to take his place among the true greats of bodybuilding. Monty sat down with us recently and shared some of the details of his comeback.
ProSource:
Congratulations on your spectacular return to form, Monty! You look great! Can you give us a brief description of your goals for 2010 and 2011?
Monty Mabry:
Thanks! I have to say, I feel more focused and determined than I ever have before. I feel like this is my time, you know? Over the next year or so, my goal is to compete and win either the North American Championships or the NPC Nationals in 2011 and earn my IFBB Pro status. I also intend to compete in the 202 pound division and hopefully qualify and compete on the Olympia stage. Oh, and to look like a super hero, of course.
ProSource:
You've had to overcome a lot of obstacles in your quest for a pro card. Some were personal, some were errors in pre-contest training and supplementation. Do you have any regrets? What's the biggest challenge you face currently?
Monty Mabry:
You know what, you're going to make mistakes. A little humility is good for the soul. Sometimes you have to make a mistake to learn something. Where I've erred in the past, I've tried to use those occasions to gain knowledge, whether I find it in myself or seek it out from competitors I respect. The biggest difference between me as I now am and when I first got started is I know a lot more. Today, I can say I know what I need to know to achieve my goals.
ProSource:
Your determination and focus are incredible. When did you first know you wanted to be a pro bodybuilder?
Monty Mabry:
I've always aspired to be an IFBB Pro bodybuilder. Even back in the day when I saw Tim Beltnap win the Mr. America title. Watching The Ten Commandments and Hercules and reading comics. To me, all super heroes looked like bodybuilders. A friend of mine, Marvin Treymal, suggested I compete in 1992. I won the bantam weight class and overall in my first competition. I was always in pretty good shape . Then I started really getting serious about weight training and it just intensified while I was in the Marines. I was amazed to see how quickly my body changed. So I absorbed all the information I could get my hands on. It was truly a learning experience.
ProSource:
Did you develop your training program? Did you have a personal trainer, or did you create it yourself, or with routines from magazines, or with the help of a friend?
Monty Mabry:
I developed my program over countless years in the trenches lifting, journaling and reading everything I could get my hands on about bodybuilding. I discarded what I thought was crap and made a record of what I thought would be applicable to what I wanted out of my training program. I've always been careful about recording what I do, so I can learn from it. I've never had a personal trainer but I did have a nutrition/posing coach to help guide me in those areas.
ProSource:
Do you have a specific training philosophy?
Monty Mabry:
I cycle my training, meaning I change my workout every 8 to 12 weeks no matter how great the gains I am making. By the time you read this I will have entered the next phase of my training. Currently I am on a 3 day/week old-school split. Training for power and strength. I usually can only stay on a program like this for 8 weeks max because my joints really take a beating. I train like this for maximum stress on the muscle with maximum recovery time.
ProSource:
How about your eating habits? Do you have a specific strategy?
Monty Mabry:
I've definitely cleaned up my caloric intake. I eat more fish, more chicken, and more lean beef. Oatmeal, rice, and potatoes. I increased my good fats and whole food consumption as well. I maintain a
low-carb
diet, approximately 200g per day, with moderate fat. It consists mostly of fish, breakfast is the only meal that does not contain fish. I eat 6 meals per day and consume two 60g whey protein isolate drinks daily. My total intake is approximately 2800 cals/day, 200g carbs, 350g protein and 70g fat. Mostly whole food sources. Especially fish.
ProSource:
How meticulous do you get with your diet? Were you measuring foods, and/or keeping track of your diet in a log?
Monty Mabry:
I measure and weigh all my foods, so there's no need to keep a log. It does not vary at all. I don't get caught up in variety, you know? "If it's not broke don't fix it," I say.
ProSource:
What supplements did you use? Did you use them daily?
Monty Mabry:
I use an
NO product
helps me get through my workouts when my energy level is at its lowest during those last four weeks of preparation. Whey isolate, of course, is more for recovery and muscle preservation. I use and love the taste of
ProSource
's
NytroWhey Ultra Elite
. That chocolate flavor is the bomb, baby! I drink one of those shakes and it's like I am cheating, it's so good. I usually add one or two tablespoons of natural peanut butter to it, as well, and it's like eating a Reese's Cup (my favorite sweet treat) For me, the top quality protein speaks for itself. I've gotten leaner and harder with
NytroWhey Ultra Elite
.
I also add a teaspoon of
ProSource
Glutamine
Powder to my shakes for maximum recovery from my training.  My training style is intense (see my RxMuscle workout prep for the 2010 North Americans) so I need that to recover from the stress I put my body through. In the off season I use
Supreme Protein bars
. Candy bar taste and premium protein, you can't beat that. Those bars are off the chain.  I use
ProSource's
Joint Command
for my joints; they have taken a beating over the years. For the razor sharp definition I have come to be known for, I like
Maximum Strength Tetrazene ES-50
. Over the years this is a must in my arsenal for contest prep and getting in shape to compete against the best bodies in the nation. I am so hyped for next year's competition season! Ready or not, here I come.
ProSource:
Do you have any specific body composition goals between now and your first competition of the season?
Monty Mabry:
For now, I intend to maintain a well-balanced eating and supplementation plan during the off season in order to put on another quality 10lbs of lean muscle. Then I'm going to ride this thing all the way to my pro card win next year and then on to the next level/phase of my dream.
ProSource:
Which is?
Monty Mabry:
My IFBB Pro card and beyond! I'd also like to someday promote a bodybuilding competition and start a clothing line. In the meantime, I'm growing my own business, Mabry Muscle Machine Personal Training.
ProSource:
Good luck , Monty, and thanks for sharing your story with our readers!
Monty Mabry:
Sure thing. Thanks!
[Editor's Note:  Do you have an inspiring success story related to bodybuilding, fitness, sports performance or an amazing physical transformation? Tell us about it and send some pictures here. You could be the next ProSource.net Featured Athlete!]
Monty Mabry's Weekly Training Regimen
Day 1
CHEST

Sets

Reps


Cable Cross Overs 


5

20 Pre-exhaustion

Incline Dbell Press

4

15,12,10,8

                          
Hammer Strength incline Press


3

12,10,8

Hammer" Wide Chest Press  


3

12,10,8
| | | |
| --- | --- | --- |
| SHOULDERS | Sets | Reps |
| Machine Rear Delt | 3                        | 12 |
| Plate Lateral Raise | 3 | 12 |
| Machine reverse seat reverse press | 3 | 12 |
| | | |
| --- | --- | --- |
| TRICEPS | Sets | Reps |
| Straight Bar Press Downs (on lat pull)  | 3 | 12,10,8 |
| Machine Dips     | 3 | 12 |
Day 2 : OFF
Day 3
| | | |
| --- | --- | --- |
| LEGS | Sets | Reps |
| Seated Calf Raise    | 5 | 15-20 |
| Seated Leg Curl   | 4 | 20,15,12,12 |
| Prone Leg Curl  | 3 | 12 |
| Leg Extn | 3 | 15,12,12 |
| Leg Press | 3 | 12,12,10 |
| Sissy Hack Squats | 3 | 12 |
Day 4 : OFF
Day 5
| | | |
| --- | --- | --- |
| BACK BI'S AND TRAPS | Sets | Reps |
| Pull ups | 5 | Failure |
| Pull Downs | 4 | 15,12,10,8 |
| T-Bar Row | 3 | 12,10,8 |
| One Arm Row | 3 | 10 |
| Machine Wide Curls | 4 | 12 |
| Dbell Hammer cross body curl | 3 | 10,8,6 |
| Dbell Shrugs | 3 | 12 |
CARDIO: 30 MINUTES EVERY OTHER DAY