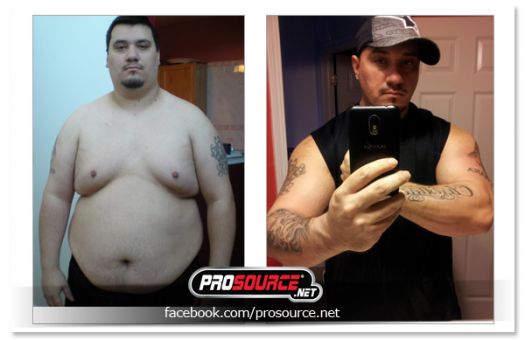 Height:
5"11
Age:
34
Starting weight:
365

Current Weight:
235

How long
: 4 years
MY Story:
Was athletic until a tragic injury caused me to lose a portion of my calf in 2002. I then was prognosed with RSD. Over the years I ate and ate and thought I could not function. Started having chest pains and overall bad health in 2009. My Dr. ordered me to do some weight training and fight through the pain in the leg. Watched shows like The Biggest Loser and did alot of research on nutrition and weight training and supplements. "The Hardest Lift Of The Day Is Getting Your Ass Off The Couch" You do that and watch your diet and you will achieve your goals!
Supplements Used to Help Achieve Goal:
Multi Vitamins
Whey Protein
Fish Oil
Pre Workouts
Intra Workouts
Creatine
Like Joe Saldana's photo on Facebook so he can win Free ProSource Stuff!