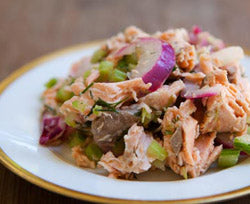 SERVINGS:

 4
INGREDIENTS:
2 cups salmon, flaked
1 red or yellow bell pepper, diced
1/2 cup chopped onion
4-5 tbsp. greek yogurt, plain (enough to moisten)
1/4 tsp. cayenne pepper
salt & pepper
 juice of 1/2 a lemon
*Optional: 2 hard boiled eggs (not included in nutrition information)
DIRECTIONS:
In a large bowl, gently toss together the salmon and crushed hard-boiled eggs (optional). In another bowl, combine bell pepper, cucumber, onion, and yogurt. Add seasonings and stir to combine. Pour mixture over salmon, add lemon juice, and toss lightly to combine. Serve over lettuce or as a sandwich.
NUTRITIONAL INFO:
Calories: 188.4
Total Fat: 6.2 g
Total Carbs: 4.9 g
Dietary Fiber: 1.0 g
Protein: 26.1 g