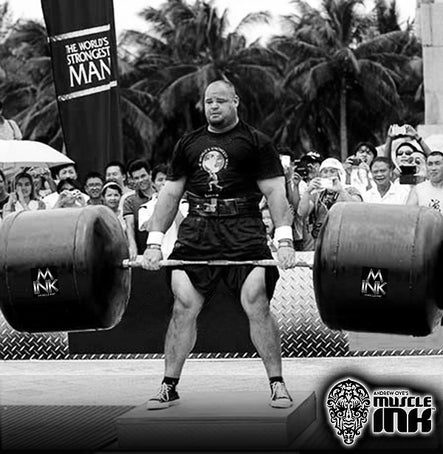 The Headline: ANDREW OYE'S STRONGMAN REPORT: 2015 WORLD'S STRONGEST MAN CONTEST RESULTS: 3-TIME CHAMPION BRIAN SHAW RECLAIMS TITLE FROM DEFENDING 4-TIME CHAMPION ZYDRUNAS SAVICKAS CHASING WSM MARIUSZ PUDZIANOWSKI'S GUINNESS WORLD RECORD
The Item:
Strongman Competition, Strength Sports, Contest Results, Andrew Oye's WSM Pro Athletes Roundup
The Scoop:
Just Announced: American Pro Strongman Brian Shaw bulldozed his fellow competitors, winning the 2015 World's Strongest Man Championships in Kuala Lumpur, Malaysia, at locations like Marina Putrajaya, Taman Seri Empangan, Persiaran Perdana and Palace of Justice Car Park. The taped event will air on national TV later this year (when WSM organizers announce "official results"). 
2015 World's Strongest Man Final Results
1. Brian Shaw – USA
2. Zydrunas Savickas – Lithuania
3. Hafthor Thor Bjornsson – Iceland
4. Eddie Hall – UK
5. Mike Burke – USA
6. Jean-Francois Caron – Canada
7. Dimitar Savatinov – Bulgaria
8. Mark Felix – UK
9. Mikhail Shivlyakov – Russia
10. Jerry Pritchett – USA
The remaining field of qualified competitors for 2015 included: Mateusz Baron, Adam Bishop, Martin Forsmark, Robert Oberst, Graham Hicks, Rafal Kobylarz, Akos Nagy, Dimitar Savatinov, Josh Thigpen, Nick Best, Benedikt Magnusson, David Nystrom, Laurence Shahlaei, Johannes Arsjo, Krzysztof Radzikowski, Gerhard Van Staden, Dainis Zageris, Matjaz Belsak, Mike Caruso, Ole Martin Hansen, and Grzegorz Szymanski.
The "So What?":
Contenders competed in a series of strength tests, including the Loading Race Barrels, Loading Race Tires, Circus Barbells, Norse Hammers, Kettlebell Throw, Truck Pull, Deadlift, Squat Lift, Basque Circle, Atlas Stones, Dumbbell Press, Super Yoke, Power Stairs and Log Lift for Max Weight.
Big Brian Shaw adds this latest victory in 2015 to his previous WSM wins in 2011 and 2013. This ties the three-win record of retired strongman Bill Kazmaier. Last month, 6' 8", 435-pound Shaw collected his second Arnold Strongman Classic win at the 2015 Arnold Sports Festival (where IFBB Pro League athletes also competed and IFBB Pro Dexter Jackson won his record-setting fifth IFBB Pro Arnold Schwarzenegger Classic Bodybuilding Championships, qualifying to face Mr. Olympia IFBB Pro Phil Heath at Joe Weider's Olympia Weekend in Las Vegas). As reported in "Andrew Oye's Pro-Muscle Report," the defending WSM champion from 2014, Lithuanian Zydrunas Savickas reclaimed the World's Strongest Man title he had won in 2012 from Shaw. For the last six years, the WSM title has been a back-and-forth tug-of-war between these two behemoths Shaw and Savickas.
Andrew Oye's Verdict:
Last year's champion, 4-time WSM Zydrunas Savickas (whose record currently matches that of fellow quadruple winners Jon-Pall Sigmarsson and Magnus Ver Magnusson, both retired) was hoping to tie the Guinness World Records achievement of 5-time WSM Mariusz Pudzianowski (a.k.a. Poland's "Pudzian," who is currently an MMA fighter). Some "Giants Live" favorites and/or prominent names missing from the 2015 contenders lineup: Terry Hollands, Derek Poundstone, Travis Ortmayer and Vytautas Lalas.
Brian Shaw was in the lead heading into this year's Finals. With moral support from 2001 WSM and retired IFBB Pro Svend Karlsen (a.k.a. the "Viking"), Savickas won two of three events to gain a 1/2 point lead on Shaw, but "Big Z" couldn't beat Shaw in a battle that rested on loading the last Atlas Stone in the third and final event of the championships. The 33-year-old former collegiate basketball player has established himself as a strength star, winning the sport's highest title, as well as its newest contest -- the inaugural Arnold Strongman Classic Australia last month in Melbourne. The IMG-produced 2015 World's Strongest Man contest will air this summer on American broadcast television on CBS Sports Network.
GET THE PRO BODYBUILDING INDUSTRY SCOOP!
"ANDREW OYE'S PRO-SOURCE PRO-MUSCLE REPORT"
http://www.prosource.net/andrew-oye