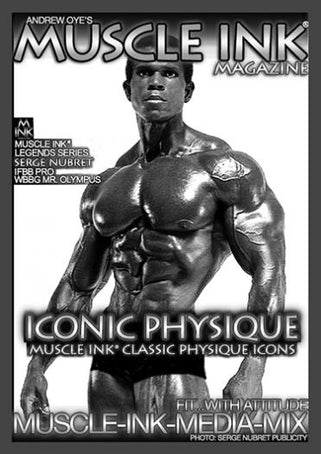 The Item:
Legends Update, Tribute to a Champion, Andrew Oye's IFBB Pro Athletes Roundup
The Scoop:
Just Announced: Actor, author, and legendary IFBB Pro Serge Nubret passed away at 72. (October 6, 1938 - April 19, 2011)  
The "So What?":
Born in Anse Bertrand, Guadeloupe, Serge Nubret impacted physical culture with one of the most refined physiques to ever grace the bodybuilding landscape. While studying accounting, Nubret discovered bodybuilding in 1958, intent on becoming the "sculptor of his own body." Shortly thereafter, Nubret won the Mr. Guadeloupe title. In 1960, he represented Guadeloupe at the IFBB World Championships in Montreal, where Nubret was crowned the "Most Muscular Man of the World."
With movie-star presence, Nubret's acting/on-screen career began in Paris and spanned 60 episodes of a TV series and 25 films, including the famous bodybuilding documentary "Pumping Iron," in which 6'0", 212-pound Nubret competed at the 1975 Mr. Olympia Bodybuilding Championships against Heavyweights IFBB Pro Lou Ferrigno (TV's "Incredible Hulk") and eventual 7-time Mr. Olympia IFBB Pro Arnold Schwarzenegger (founder of the Arnold Sports Festival and Arnold Classic Bodybuilding Championships), both of whom would also launch Hollywood acting careers. Competitors in the Lightweight Class at the '75 Olympia included IFBB Pro Franco Columbu, IFBB Pro Ed Corney, IFBB Pro Albert Beckles, and IFBB Pro Frank Zane.
After serving as Vice President of the France and Europe IFBB federation from 1970-1975, Nubret exited the International Federation of Bodybuilding and Fitness, and he  founded the World Amateur Body Building Association (WABBA) in 1976. In 1977, he garnered the Mr. Olympus title in the WBBG (a federation whose Hall of Fame recognized athletes and celebrities like 3-time Mr. Olympia IFBB Pro Sergio Oliva, Bill Pearl, Boyer Coe, Reg Park, Steve Reeves, Robert Redford, Dave Draper, Bruno Samantino, Boxer Joe Louis, Jack LaLanne, Ivan Putski, Chet Yorton and Charles Atlas). At his final competition, Nuret won the 1982 WABBA World Championships.
Contest History
1958 Mr. Guadeloupe
1960 IFBB World Most Muscular Man
1963 NABBA Pro Mr. Universe (Tall, 2nd) 
1964 NABBA Pro Mr. Universe (Tall, 2nd) 
1969 NABBA Pro Mr. Universe (Tall, 3rd)
1969 IFBB Mr World (Tall, 2nd)
1970 NABBA Mr. Universe (2nd)
1970 IFBB Mr. Europe (Tall)
1972 IFBB Mr. Olympia (3rd)
1973 IFBB Mr. Olympia (2nd)
1974 IFBB Mr. Olympia (3rd)
1975 IFBB Mr. Olympia (2nd)
1976 NABBA Pro Mr. Universe (1st)
1976 WBBG Mr. Olympus (2nd)
1977 NABBA Pro Mr. Universe (2nd)
1977 WBBG Mr. World (1st)
1977 WBBG Mr. Olympus (1st)
1978 NABBA Pro Mr. Universe (2nd)
1981 WABBA Pro World Cup (2nd)
1983 WABBA Pro World Championships (1st)
Andrew Oye's Verdict:
Renowned for his classic aesthetics, near-perfect build, and strict training methods, Serge Nubret once described bodybuilding as his "reason for being." MUSCLE INK Magazine highlighted Nubret in a feature series titled "Iconic Physiques," a salute to classic physique icons. It's unfortunate that Serge Nubret never got to hold the Sandow trophy at the "Super Bowl of bodybuilding" (as Joe Weider's Olympia Weekend has been nicknamed). Perhaps due to sports politics and subsequent federation-hopping, a competitor with the kind of once-heralded structure, symmetry and shape the Olympia was created to showcase was never rewarded with the prestigious crown jewel of IFBB Pro League athletes; however, Serge Nubret's legacy lives on through a segment of today's athletes who appreciate yesteryear's ideals and don't necessarily aspire to acquire copious amounts of mass. In closing, R.I.P. to a physical embodiment and champion of bodybuilding's Golden Era.
<< Back to
Pro-Muscle Report Home
,
Pro-Muscle Report Index