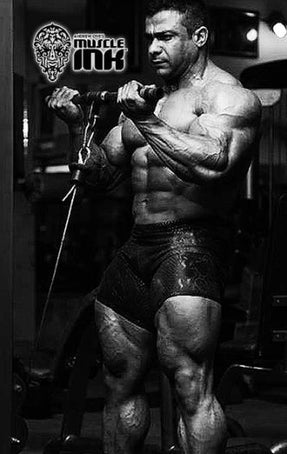 The Item:
IFBB Pro League Contest Results, Andrew Oye's IFBB Pro Athletes Roundup
The Scoop:
Just Announced: Over the weekend, IFBB Pro Baitollah Abbaspour won 1st place at the 2013 IFBB Nordic Pro Bodybuilding Championships in Lahti, Finland. IFBB Pro Lionel Beyeke was named 2nd place runner-up. IFBB Pro Aliaksei Shabunia snagged 3rd place. In his pro debut, Russian IFBB Pro Alexey Lesukov landed in 4th place. Making his professional bodybuilding debut, Italian IFBB Pro Emiliano Dell'Uomo took 5th place. Also hitting a pro stage for the first time, IFBB Pro Mehdi Hatami in 12th place.
The "So What?":
As it did last year (when it was Scandinavia's inaugural pro bodybuilding contest), the Nordic Pro marked the last contest before Olympia Weekend and the final opportunity to gain Olympia qualification points for Open Division competitors. As reported in "Andrew Oye's Pro Muscle Report," the IFBB Pro Olympia Qualification Series Point System (1st automatic qualification, 2nd - 4 Points, 3rd - 3 Points, 4th - 2 Points, 5th - 1 Point) applies to IFBB Pro League athletes' eligibility to compete at the 2013 Olympia Weekend (September 26-29) in Las Vegas to face reigning Mr. Olympia IFBB Pro Phil Heath. IFBB Pro Roelly Winklaar won the 2012 Nordic Pro Championships, where IFBB Pro Baitollah Abbaspour took 4th place. 
Andrew Oye's Verdict:
The IFBB Nordic Pro Championships seems to be turning into a proving ground for rookie pros and others with a connection to the Arnold Classic Amateur division of the IFBB Pro Arnold Schwarzenegger Classic at the Arnold Sports Festival. 2012 Nordic Pro winner Roelly Winklaar had won the Super-Heavyweight and Overall titles at the Arnold Amateur Bodybuilding Championships in 2009, while 2013 Nordic Pro competitors Alexey Lesukov won the Arnold Amateur Heavyweight Class in 2011 and Emiliano Dell'Uomo won the Arnold Amateur Heavyweight and Overall titles in 2013.
<< Back to
Pro-Muscle Report Home
,
Pro-Muscle Report Index