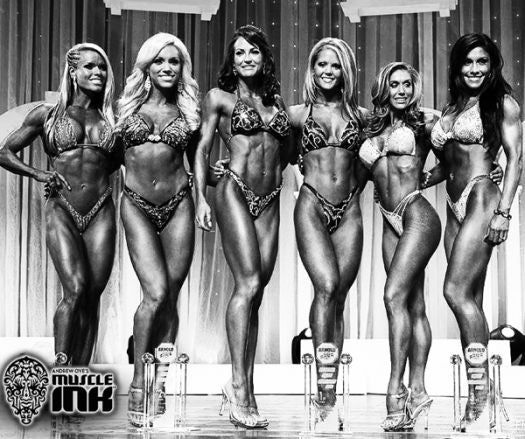 The Item:
IFBB Pro League Contest Results, Sports Festival, Andrew Oye's IFBB Pro Athletes Roundup

ARNOLD SPORTS FESTIVAL: MS. INTERNATIONAL
The women of the Arnold Sports Festival brought the variety of their competitive physique divisions to the Veterans Memorial stage in Columbus. In women's bodybuilding, IFBB Pro Iris Kyle and IFBB Pro Yaxeni Oriquen-Garcia led a lineup of 14 competitors hunting for a share of $55,500 in prize money and the 22nd Ms. International Championships crown. The Ms. International competitors are judged on grace of the female muscular form, but the judges also look for muscular bulk, balanced development, muscular density and definition. To date, nine women have held the title since the division's inaugural year of 1989.
Kyle and Oriquen-Garcia are both four-time champions who had come to settle a score. Kyle won the event in 2004, 2006, 2007 and 2009. Oriquen-Garcia won in 2002, 2003, 2005 and 2008. This year would be the tie-breaking, record-setting year. In the end, Kyle broke the tie and set the new record with five Ms. International victories. The five-time Ms. Olympia and now five-time Ms. International is the most decorated athlete in women's bodybuilding. Kyle dominated the field with sculpted mass, particularly in poses from the rear. Oriquen-Garcia had to settle for the runner-up spot. IFBB Pro Debi Laszewski landed in a respectable 3rd place, the same placing as her 2009 Ms Olympia debut.
ARNOLD SPORTS FESTIVAL: MS. FITNESS INTERNATIONAL
A combined thirty-four more women competed for $99,000 in the Fitness International and Figure International contests. Fifteen Fitness International competitors flipped and danced their way across the Veterans Memorial stage. Fitness International competitors are judged in the categories of strength, body tone, shape, flexibility, creativity, choreography, athletic competence and performance. IFBB Pro Adela Garcia racked up another win with a 1st place victory, now owning a triplet set of Ms. Fitness International trophies. Garcia, who also owns four Ms. Fitness Olympia trophies, didn't overwhelm in the physique round but redeemed herself with a J.Lo-inspired performance routine. While other competitors' routines were just as, if not more, entertaining, perhaps Garcia's stage legacy and strength carry her.
Ohio's own IFBB Pro Julie Palmer nabbed 2nd place, verifying her self-classification as the perennial underdog. In her highly creative performance routine, she poked fun at her Arnold Classic record, which consists of gradually climbing the ladder but still missing out on that elusive 1st place spot. The skit involved a look into the future and Palmer appearing on stage in a "fat suit," i.e., forever chasing the goal even after it's too late. Fan fave IFBB Pro Tanji Johnson took 3rd place. An energizer bunny with a cheerleader's spirit and an acrobat's strength, Johnson, who was also the 2009 Ms. Fitness Olympia runner-up, has an infectious positivity that radiates from the stage.
ARNOLD SPORTS FESTIVAL: MS. FIGURE INTERNATIONAL
Nineteen Figure International competitors strutted their toned forms across the Veterans Memorial stage in heels and sparkling bathing suits. Figure International competitors represent some of the world's fittest, most shapely physiques that are judged in two rounds of posing. The figure contest differs from the fitness event in that it does not judge acrobatic skills and routines. Instead, judges are evaluating qualities such as tone, proportion and conditioning.
In the bodybuilding world, people are saying that the ideal physique for the Pro Figure Division is in a state of flux. In years past, the winning look was super-lean and femininely muscular. But lately, a slightly softer appearance seems to be the look of choice and the judges' choice seems to be IFBB Pro Nicole Wilkins, who followed up her 1st place finish at the 2009 Figure Olympia with a 1st place finish at the 2010 Figure International. IFBB Pro Erin Stern, who took 2nd place, also fits into the firm-and-fit format, as opposed to the ripped-and-pumped prototype. Shapely IFBB Pro Heather Mae French took 4th place, and rising young figure star IFBB Pro Mindi Smith finished in 4th place, followed by IFBB Pro Felicia Romero in 5th and IFBB Pro Larissa Reis in 6th.
It was recently announced that the Arnold Sports Festival will add a Pro Bikini competition to next year's contest. "We are very aware of the growing popularity of professional bikini competitions and are proud to offer the world's top pros the opportunity to compete at the Arnold Sports Festival in 2011," event co-promoter Jim Lorimer said. "Like all of our professional events, we will strive to make the Bikini International the most sought-after championship of its kind in the world."
ARNOLD SPORTS FESTIVAL: ARNOLD

AMATEURS: PROS IN THE MAKING
The top 400 amateur competitors from across the globe brought their international physiques to the Veterans Memorial Auditorium to compete at the Arnold Amateur International Bodybuilding, Fitness, Figure and Bikini Championships. With athletes from 40 different countries competing, the Arnold Amateur is one of the biggest international events of its type.
"We are fortunate to collaborate with such wonderful partners like Rafael Santonja, President of the International Federation of Bodybuilding, and Jim Manion, President of the National Physique Committee, who help us bring so many talented competitors together," says Amateur Event Co-Producer Bob Lorimer.
Past Arnold Amateur Champions IFBB Pro Roelly Winklaar, IFBB Pro Elena Shportun- Willemer, IFBB Pro Sylvia Tremblay, IFBB Pro Candice Houston and IFBB Pro Allison Ethier were able to step-up and compete against the world's top professionals in Arnold professional IFBB events. This opportunity is now available to this year's winners, an incentive for athletes to go for gold.
"Overall winners from each competition who earn their pro card after the Arnold weekend, are invited back to compete as professionals," explained Amateur event co-producer Mike Davies.
The 2010 overall winners were as follows: Super-Heavyweight Class Winner and Overall Arnold Amateur Bodybuilding Championships Winner Essa Obaid; Heavyweight Class Winner and Overall Arnold Amateur Women's Bodybuilding Winner Maria Rita-Bello; Overall Arnold Amateur Figure Winner Gloria Keplinger; and Overall Arnold Amateur Fitness Winner Nicole Cavalcanti.
Winners received a trophy, a Tony Nowak Arnold Classic jacket and a one-year fitness magazine subscription. Bodybuilding, Fitness and Figure winners also received two tickets to the 2011 Arnold Classic and had their pictures taken with Governor Arnold Schwarzenegger.